SUMMER TOUR '09 - PART 2 - Spain's FIMEC Festival
Just returned to Los Angeles after six glorious weeks out in the world: touring, performing, singing, dancing! HEAVEN! THIS IS PART #2

LONDON REHEARSALS
After five shows in the UK, I rehearsed for two days in London with a new band. A Spanish world music festival called FIMEC had invited me to perform, but wasn't paying enough to bring my American band with me, so I gathered musicians based in England and France who would then serve as a less-expensive option for future European dates. I had three Senegalese artists: Idy Diallo (bass / France), Diene Sagna (dance / Manchester), and Cheikh Diop (sabar drums / Bristol. And also Phil Stevenson (guitar), Nick Ramm (keyboards), and Luciano Ciccotelli (drums) all based in London.
Diene Sagna, Idy Diallo, Phil Stevenson, Chiekh Diop, Nick Ramm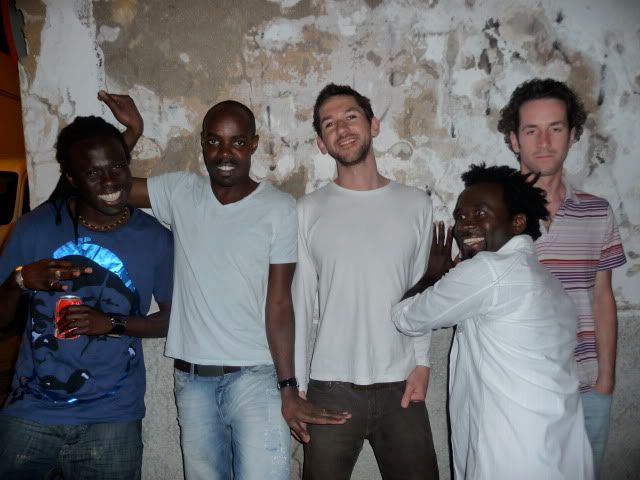 Oh, the Gods really loved me … what a wonderful crop of musicians! Everyone turned up prepared and ready to work hard, no ego issues, good vibes, and a general sense of excitement to be on the gig. Rehearsals were fluid, fast, and productive. YES!!!!

SPAIN!
Two days later, we met at Heathrow and I handed the Iberia representative our passports. When she quickly checked everything and printed out our boarding passes, I got all teary. I told her, "You really did something special today in treating these Senegalese artists like normal travelers without examining their passports for 10 minutes or asking 100 suspicious questions. It's always easy to notice when things go wrong, but I want to tell you we really appreciate that." She got emotional too, smiled, and said, "We are all one people!"
It was a positive start to a wonderful four days. An awesome English guy with long dreads named Nick Whitfield drove us for two hours from Sevilla to the city of Chiclana in the South, with everyone festive and howling with laughter in the van. We were put up in a lovely hotel and had our meals in a beautiful Spanish restaurant where we could meet the other bands from Columbia, Cuba, Algeria, Senegal, Morocco and more.
I had met FIMEC's organizer,
Andrea Morpurgo
, at WOMEX 2008. A super friendly Italian long living in Spain, Andrea ran his festival with precision and bacchanalian joyfulness. Somehow everything always felt relaxed, yet managed to run on time.
ANDREA MORPURGO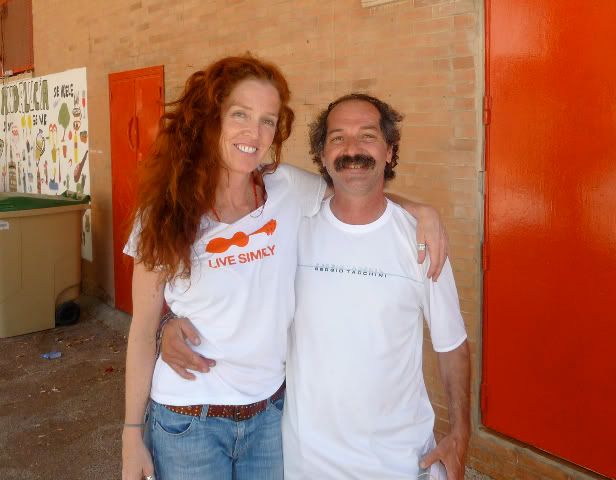 Our Friday afternoon sound check was a dream. Andrea's very professional crew of had us sounding The Bomb in no time.
SOUNDCHECK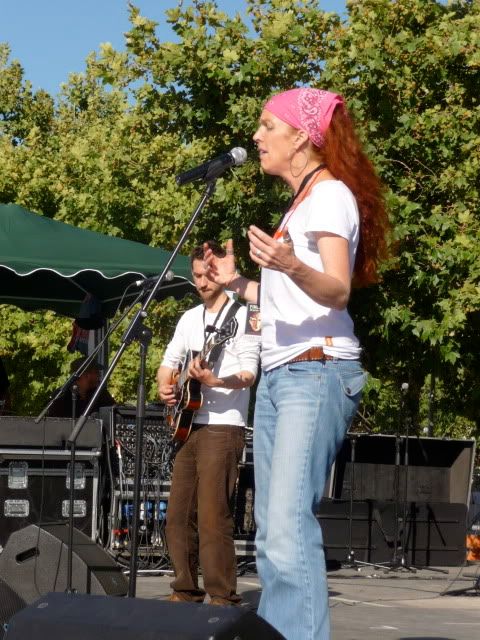 That evening, we were the headlining band (Spanish time, that meant coming on at 1am!) The prior acts were wonderful. singer Pura Fe sounded like a world / blues / Janis Joplin / Joni Mitchell, and Gema 4 were an wonderful a cappella group of Cuban women. Andrea, who loves jam sessions, had us all perform "You Got A Friend" together before my set. Oh our voices sounded so beautiful together!
WITH CUBAN A CAPELLA GROUP: GEMA 4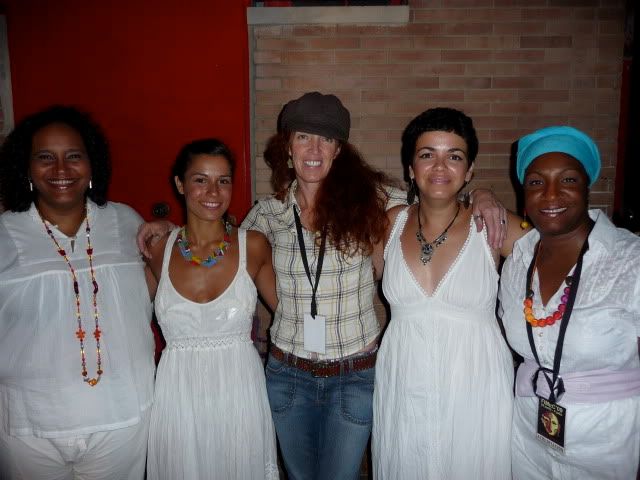 At 1am, the stage was ours at last and we rocked! SOOO great to have a chordless mic, excellent musicians, tons of space to move about, and the electric Diene Sagna dancing by my side. I apologized in Italian to the audience for not speaking Spanish and wondered how they would respond to the music? Soon it was clear that they were really into it. A big pile of kids down front danced and danced (they were up onstage with me by the end), and the crowd had every generation represented. We were the evening's only act to receive an encore!! We played a track from my new CD called "Amazing Grace" and I sang the whole song as a call and response piece. Standing there with thousands of Spaniards singing along under the stars at 2am on a warm summer evening, I thought, "This is why I am here! To do this for the rest of my life … to sing, dance, share this music, and help create a joyful / uplifting / beautiful atmosphere. What a feeling!
HEAVEN!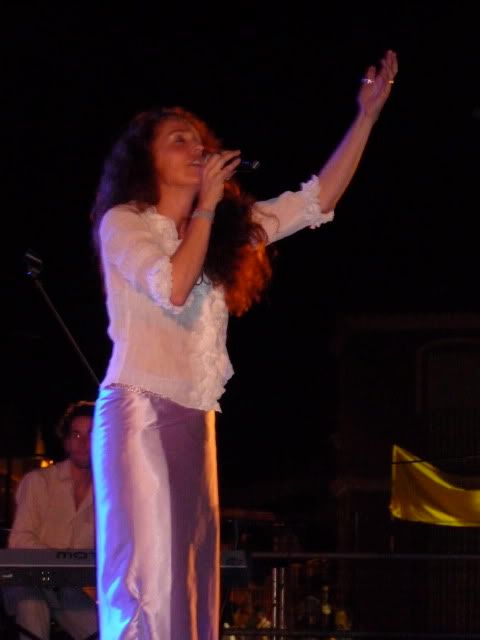 DANCING WITH DIENE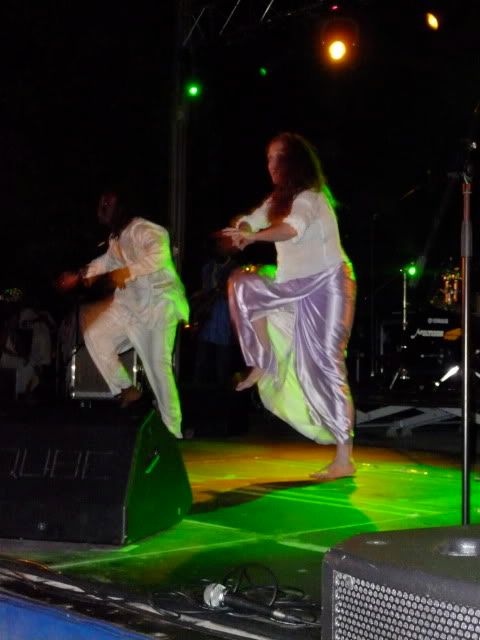 BOWING AFTER OUR ENCORE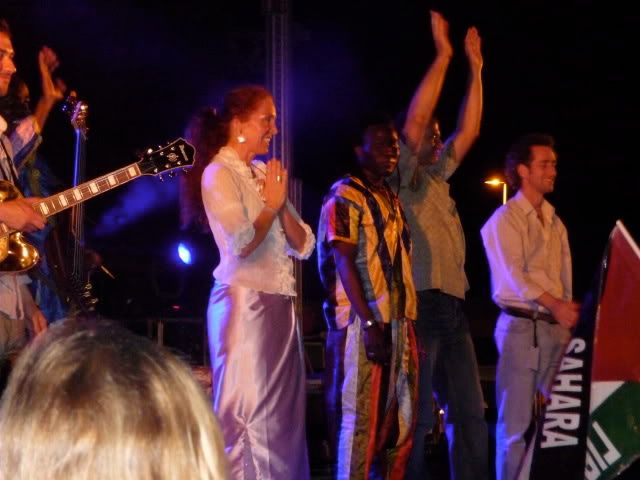 The next morning we had a day to stroll around lovely Chiclana, nap, drink too much café con leche, and attend an afternoon djembe drum & dance workshop headed by another long dreadlocked Brazilian guy named Malaga … who had lived in Senegal for 13 years, played super well, and spoke fluent Wolof. (Oh, I SO want to be able to speak Wolof … I just gazed at him in admiration!)
Malaga's group, Borom Tamba, featured a heady list of first class drummers and dancers direct from Senegal. Some of the great Pape Moussa's brothers were dancing and, to my total delight / surprise, they said, "We know you! You dance really well!" before I even danced a step for them! Wooohooo! Diene, Cheikh, Idy, and I were in heaven!
WITH DJIBY MBAYE, DIENE, MARIA, AND CHEIKH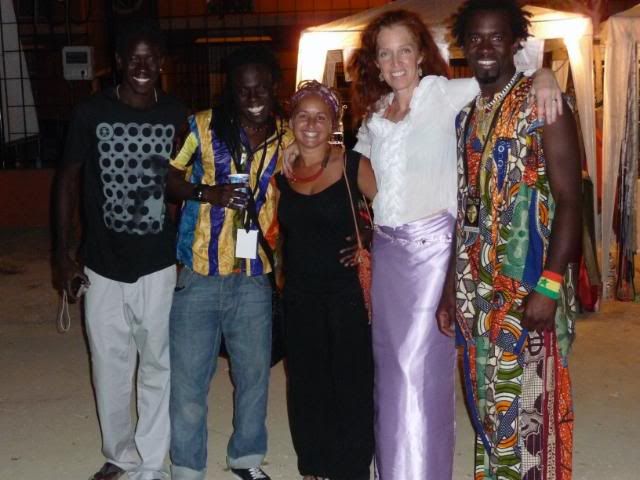 Borom Tamba's show was HOT! Their dununba alone was ferocious!! Again, this was followed by an Andrea-inspired jam session, featuring singers and musicians from the other Saturday night bands: Abdeljalil Kodssi (Morocco), Piccola Banda Ikona (Italy), Buritaca (Colombia). So fun! We hit an excellent improvised groove .. international all the way!
Another late long laughing walk back to the hotel, an early van ride back to Seville the next morning, where we split onto different flights back to Heathrow. Diene, Phil, and I were the last to leave and enjoyed a last dance in the airport before getting on the plane. Truly a magic weekend.
DANCING WITH DIENE AT THE AIRPORT