Farmers' Market Show
Performing at The Santa Monica Farmers Market is always colorful. Over the years since returning to Los Angeles, I have appeared there with various line-ups and every show has a different vibe. Recently, I invited three musicians and dancer Kara Mack (who just had a baby) to put on a show and it was so fun!
That Sunday was a gorgeous bright winter day. We set up on time, and the ever-changing audience got really into the music! I wanted to focus on two things: groove and improvisation. As an outdoor gig, how could we make every groove really pop? Also, because it was a loose Sunday morning with everyone eating breakfast and hanging out with their kids, how could our show be equally loose and carefree? We created a sunny and bubbling African / world soundtrack for everyone buying their organic fruit and vegetables …
Honeycomb Grey
became a samba.
Ogoniland
was a groooooooove!!
Federico Ramos (guitar) and Dante Pascuzzo (bass) put in some heavenly solo-ing, Magatte Sow (tama) blew everyone away, and Kara and I danced up a storm. It felt good to wrap a skirt around my pants and just go … no frantic Diana Ross-ian costume change scrambling backstage, for once!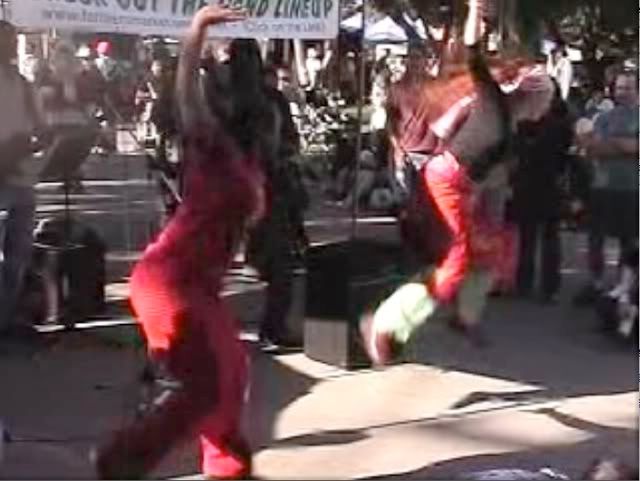 We got the sea of little toddlers down front dancing in a circle at the end of
Babalu
to the drums and everyone getting up to sing solos for
Frank and Loretta
. Mostly, the little kids sang "FRANK AND LORETTA!" followed by 4 5 6 7 8 1 2 3 4 5 6 7 8 worth of silence and heavy breathing into the mic. The crowd LOVED it!!!
The crowning moment, though, was getting Kara up to sing at the end. Check the video at the bottom of this blog for kid solos and Kara. She is a classic!!!!
Also, many thanks to Lynette "Waaw Waaw" Wich for filming parts of our show. The still photos in this blog are from her footage!