Yoro Ndiaye @ Just 4 You / Recording w/ Zale Seck in Montreal
In November '08, while in Dakar, Senegal to shoot a video for the first single off my upcoming fifth CD, I finally visited a club called Just 4 You. Everyone had told me about Just 4 You … the premier acoustic / jazz / mbalax live club in Dakar where everyone from Xalam to Cheikh Lo to Youssou Ndour himself had performed. It is open-aired … with about 40 tables spread out beneath lovely trellises woven with vines. The sound is impeccable, the stage neither too small or big, and the audience a friendly and unpretentious mix of mostly Senegalese with a dollop of foreigners who genuinely love Music.
With one of Senegal's stars of acoustic mbalax, Yoro Ndiaye
Singer Yoro Ndiaye was on that night. I had met Yoro a year before when we both sang on a track by Djibril Ndiaye Rose in Dakar. Super friendly guy, awesome singer and guitarist, with a deservedly growing profile in Senegal and Europe. That evening, Yoro invited another incredible singer / guitarist named Zale Seck (former member of Orchestra Baobab and Les Etoiles 2000) up to guest before inviting me. I sang about Obama being freshly elected (in terrible French) and then, with Guitar God Jimi Mbaye now also onstage, danced before the audience with my Goorgoorlu dancer friends. That night, it felt like I had found my True Musical Home. Two months later, I was surprised to see this video appear on YouTube with excerpts from that night. Filmed by Diane Poitras, it made my day!
Missing from the video was Zale Seck's impressive singing. We contacted one another when I returned to California and he returned to Montreal, Canada. Long story short, Zale invited me to spend last weekend in Montreal, recording harmonies for five songs on his new CD. What a wonderful weekend!! I spent two nights with ANOTHER excellent singer named Xosluman (Oumar Ndiaye) and his lovely Canadian wife, Marie Helene, met up with, yes, ANOTHER wonderful singer named Elage Mbaye (who I'd recorded with from afar, but had never met), and spent a magical afternoon at DJ / bassist / Senegalese Music Lover Badou Bousso's house.

with Xosluman (Oumar Ndiaye), Elage Mbaye, and Nathan Mbaye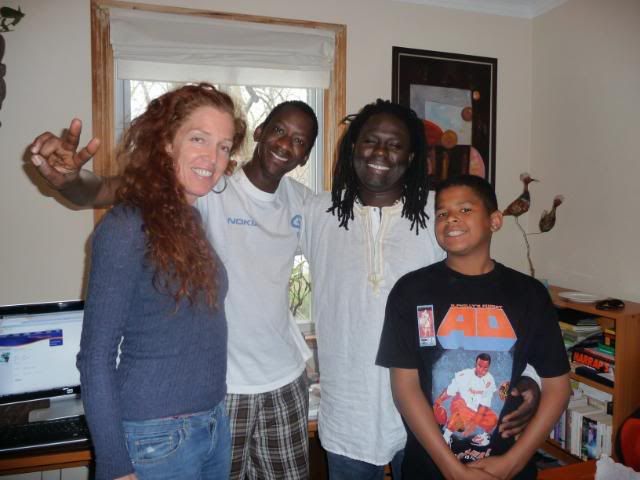 At Badou's we ate maffe, watched music videos, chatted, and he burned me a tall stack of brilliant vintage Senegalese CDs. Heaven! It was so thrilling to talk to him about the past, present, and future of Senegalese music. Badou's knowledge of Who's Who and Senegal's musical history was as awesome as his enthusiasm for foreign artists who had successfully collaborated with African music. Everyone was super charming. After spending hours hanging out, Elage Mbaye mentioned to everyone that I was the toubab who danced sabar in videos on Seneweb.com and YouTube. To my surprise, every single Senegalese person there had seen and loved those videos. How cool is that ????!!!! I told them I would need an extra seat on the plane home for my expanded head!
Elage Mbaye, Badou Boussou, and Me with exploding hair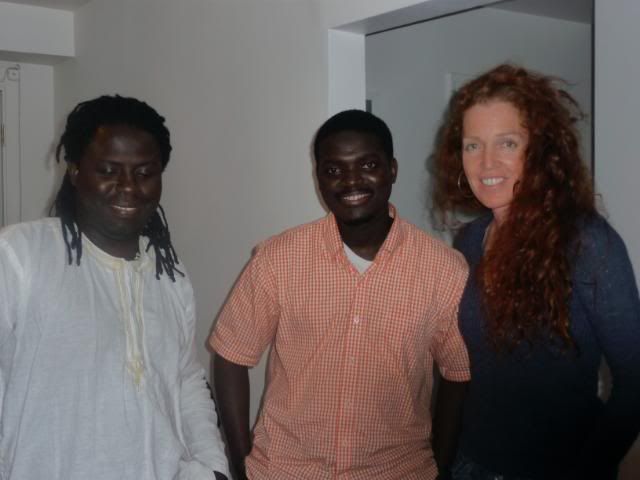 My final day, I took a bus out to Zale Seck and his wife, Helene's beautiful house in the Canadian countryside. We rehearsed in the morning, I napped and took a gorgeous long walk in the afternoon, and then we drove to a lovely studio even FURTHER out in the countryside in the evening. Oh, the recording session was so much fun! Every song I sang on (mostly in Wolof) was sooooo beautiful … acoustic Senegalese folk mbalax at its finest. We worked really quickly and by 3am, I had laid down up to 6 tracks of harmonies per song. To my delight, Zale and his engineer were genuinely impressed with my studio prowess. The Global Diva has landed !!!

Recording with Zale Seck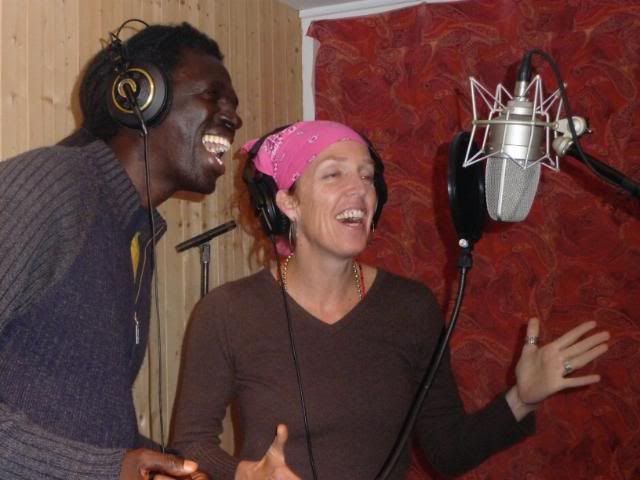 With Zale and his wonderful engineer, Donald Fleurent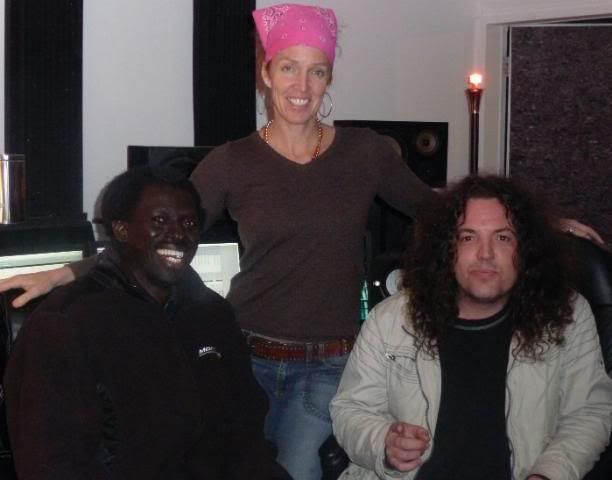 Finally arrived back in Montreal at 5am, grabbed my suitcase from Oumar's, got to the airport, and begged the woman behind the Air Canada desk for a window seat. I must have looked as if bus had run me over, because she kindly gave me three free seats, across which I gratefully snoozed for most of the 6 hour flight back to LA.
Really looking forward to working with Zale Seck, Elage Mbaye, Oumar Ndiaye, and Zale's brilliant guitarist son, Assane Seck, again soooooon! Senegal has SO MUCH TALENT!!!!!!!
Labels: ashley maher xosluman zale seck elage mbaye jimi mbaye yoro ndiaye badou bousso just 4 U Senegal music mbalax