East Coat/UK tour '08, WOMEX, Dakar Video Shoot
Three weeks after returning from recording CD #5 in Dakar, I was off again! This time, I had shows in Boston, New York, Hampshire (UK), Edinburgh, Glasgow, and London, before heading on to the WOMEX world music conference in Seville, Spain, and finally, yes … lucky me!..... BACK to Dakar to film a video for my upcoming single.
BOSTON
Laura D'Onofrio, my east coast booking agent, booked me a show at Boston's The Beehive. After an overnight flight, my rehearsal with NYC guitarist Francis Jacob at Jeff Wasilko's house was soooo sweet! After all the build up, stress, preparations, and flying, there was something so pure about those couple of hours. Jeff's living room is all wood and cats and the acoustics were so lively, I could whisper and be heard. Francis played super tasteful guitar and we had a True Musical Conversation. Wonderful!
Ironically, The Beehive's atmosphere was the exact opposite – loud, busy, bustling … but still fun. Having learned to flow with a venue's energy, we played for the front row tables (full of friends) who could hear us, while providing background music for the loud restaurant tables beyond that inner circle. Everyone was happy!
Performing at the Beehive in Boston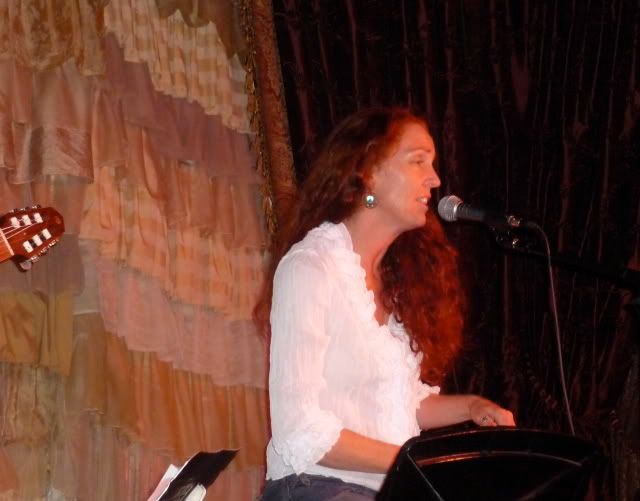 Boston was hosting a sabar dance conference (heaven!) the weekend I was there, so Laura and I took great classes with Babacar Mbaye, Babacar Ndiaye, Mariama Basse, Marie Basse-Wlles, Ousmane Sall, and Malang Bayo. The East Coast teachers are amazing!
NEW YORK
Sunday, I enjoyed a gorgeous bus ride to New York and had a lovely show at Googie's Lounge in the East Village. Walter played brilliantly and Afro-guitarist Raja Kassis joined us for the second half of the set, weaving his sparkling guitar lines masterfully throughout. Really fun!
Youssou Ndour's long time manager, Thomas Rome, who had promised he would come from Connecticut to see the show, came skidding in through the doorway in time to catch the very last song. Later he told me he'd missed a train and was so mad at himself, he'd thrown a pen on the station platform. This cracked me up … a wild act of rage for a person as kind and gentle as he!
One day, when they film the biopic of my life, : ) … a pivotal scene will be of Thomas taking me out to dinner in Greenwich Village after my show. We found a place called The Pink Pony (?), and spoke at length about music, art, philosophy, and my fave subject (brainstorming about my rise to Global Diva-hood). Thomas is a visionary, plain and simple!
ENGLAND
Monday morning, caught a VERY early flight to London. I stayed with Emma and Giles O'Bryen at their big rambling Tufnell Park home, rehearsed with my UK guitarist, Phil Stevenson, took a walk on Hampstead Heath, and generally breathed in the Joy of being in my favorite city in the world.
Two days later, Phil and I put on a lunch-time concert for the students at South Downs College in Hampshire, on the invitation of Rachel Lovie; We had a hilarious lunch in the school café, which also serves as training college for waiters. They burned our sandwiches, took forever, and brought me a plate piled high with grated cheese when they misinterpreted my vegetarian order. The manager-in-training offered us stale profiteroles as an apology, which we accepted as graciously as we could without giggling. As for the show, to my delight, the students loved us! I got everyone up to sing solos on
Frank and Loretta
and they did some hilarious ad libs.
w/ Rachel Lovie, Phil Stevenson & stale profiteroles @ South Downs College, Hampshire
SCOTLAND
The next day, Phil and I took a train to Scotland, where we met up with booking agent, Morag Neil. She had arranged for us to perform alongside Samba Sene and his band including ex-musicians of Thione Seck, Medoune Ndiaye (tama / sabar) and Khadim Thiam (keyboards). For both our Edinburgh and Glasgow shows, Phil and I opened with an acoustic set, with Medoune and Khadim sitting in. Then when Samba performed, I danced for them, so we pooled our talents The Scots were so up for fun and enjoying themselves, brilliant!
with tama superstar Medoune Ndiaye
LONDON SHOW
Finally, we flew back to London for our return show at Inn on the Green. So great to see everyone! Chris Baker and Carrie Slater took me out for Thai food before the show (thank you!) and then the show was awesome. Tina and Dave were the perfect hosts, the audience was The Best, Senegalese guest drummers Ali Seck, Kao Seck, and Landing Mane guested, and I loved performing with Senegalese sabar dancer, Vieux Diene Sagne. He has such a radiant spirit and was an instant hit with the audience.
with Kao and Ali Seck, Landing Mane and Vieux Diene Sagna (in front)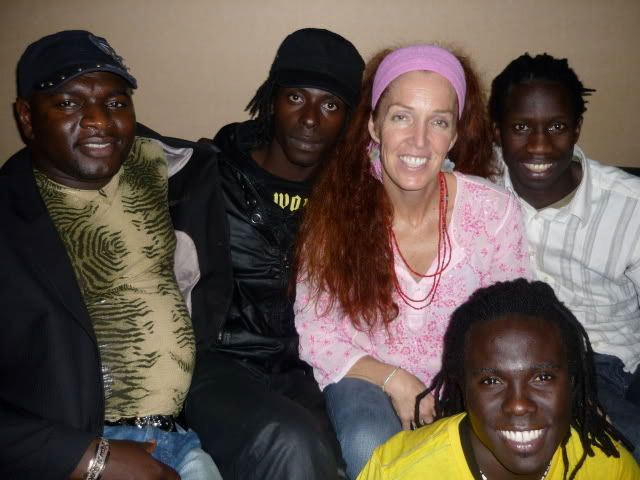 Happiness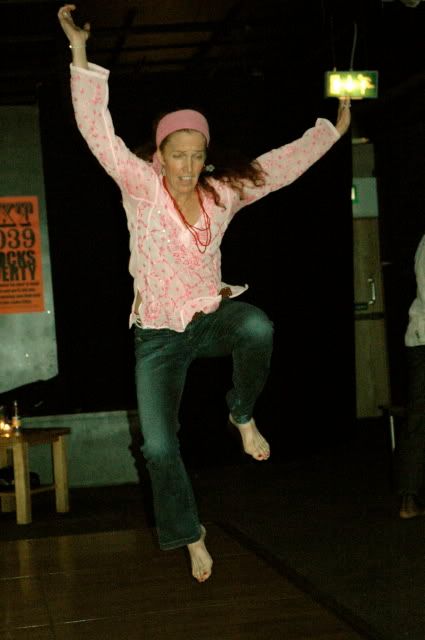 WOMEX '08, SEVILLE, SPAIN
WOMEX '08 was next! I shared a cheap pensione room with my mad Italian singer friend, Luisa Cottifogli, and we spent 5 days schmoozing madly at the conference, hearing excellent music, and hanging out with Thomas Rome and his wife, Florence. We saw local flamenco, tourist flamenco, ate waay too much cheese, drank too much coffee, walked happily 'round Seville's beautiful old town, and generally had an excellent time. Lots of leads to follow up on…
with the wonderful Florence Rome and visionary, Thomas Rome
DAKAR
Finally …. DAKAR! It's difficult to describe what happens to my spirits the minute I arrive there … every molecule in my body lights up!. In the first few days, I tackled getting a video made for the song, "Try to Hide" from my upcoming CD #5. With the help of dancers Fallou Ndiaye and Bamba Gueye from the group Goorgoorlu, I found a director, rehearsed with F + B + three women, and searched for locations. The next day, director Niang first filmed us dancing in front of a green screen. Here's me looking glamorous…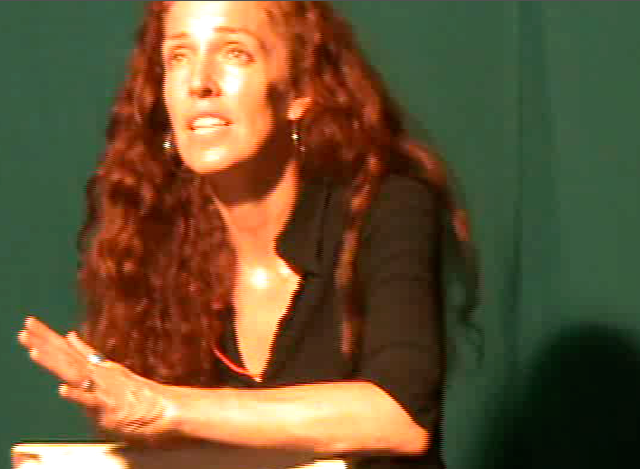 We then all piled into a Ndiaga Ndiaye bus to the Village des Artistes to film in front of some beautiful murals until the sun went down. The final shot was out by the highway, round an enormous sculpture of a tama player. A pile of kids appeared out of nowhere and ended up dancing in the video, as did a shoe seller, who jumped in front of the camera and let loose with some steps. It was a marvelous day and I am eternally grateful for all of the focus and joyful energy everyone contributed…
Fallou Ndiaye and Bamba Gueye dancing for the video @ Le Village Des Artistes, Dakar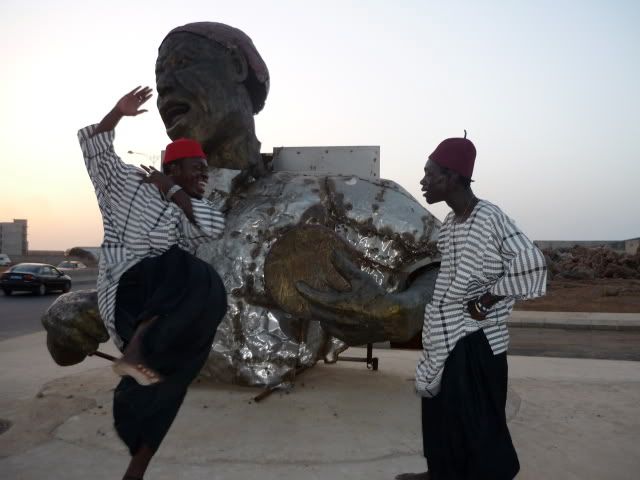 I had thought that I would also do a second video for a song I had worked on with Djbril Ndiaye Rose, but our schedules didn't allow that, so instead, I attended a dizzying array of soiree Senegalaises, clubs, concerts, tannebeers, and parties. Jimi Mbaye's family shook their heads in disbelief as I would get up night after night at midnight to start dressing to leave. "Ashley (or ash - LAY)," they'd say, "You are so tired. You are not going out AGAIN?" But having missed music and dance during Ramadan, I had to grab my chance!
Without going into too much detail, all I can say is that
Dakar blew my mind!
. There is so much talent there…. dancers, musicians, drummers, artists of every description, it's crazy. I spent much of the soiree Senegalaises watching with my jaw on the floor. The way the dancers can describe the tiniest of details inside the music, every bakk, every dynamic, is incredible Hanging out with Fallou and Bamba also gave me an insight into artists' lives there, too. They face a staggering level of competition for a tiny amount of low-paying artistic gigs … it's humbling.
One particularly wonderful night was at Just 4 You, an acoustic, open air venue with a big spread of tables, a respectful audience, and top quality musicians. Yoro Ndiaye did a lovely set, with guests like Zale Seck and Jimi Mbaye's guesting. Yoro invited me up, where I sang about Obama winning and danced with Fallou Ndiaye and Modou Gabon in front of the stage, much to everyone's surprise. That night I thought, "THIS is where I want to be … listening to this music, working with these musicians, collaborating RIGHT HERE." When I move to Dakar (please, God!), I will LIVE at Just 4 You!
While in Senegal, I made some excellent connections, made new friends, and was eternally grateful for Jimi Mbaye's family's hospitality. His daughters, the gorgeous Maman and N'Deye Mbaye, were constant companions. Also Fallou Ndiaye was incredibly helpful and Bamba Gueye's family was equally kind. I rehearsed, hung out, ate, and slept there and fell in love with Bamba's whole family.
w/ brilliant producer, Ibou Ndour, at Jololi Studios in Dakar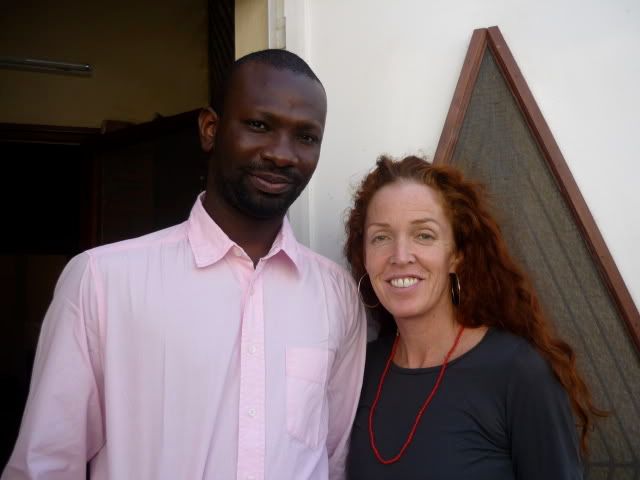 Barack Obama!
Lastly, my sister emailed me on Wednesday morning to say that Barack Obama had been elected as our next president. Senegal was crazy happy with the news! It felt so great to be in Africa for this enormously positive step for the whole world. I cried with happiness all day long and took 10 Senegalese friends out, yes, to dance from midnight until morning. What wonderful news!
Senegal is amazing on every level. Although I am freshly back in LA, I am already wondering how I can return. Ii would love to learn Wolof, get to know my way around the city better, work more with musicians and dancers there, just generally dig in!
Watch this space! Peace and blessings to all of you who have read this far!!
Labels: Ashley Maher, dakar, dance, francis jacob, goorgoorlu, ibou ndour, jimi mbaye, medoune ndiaye, music, phil stevenson, raja kassis, sabar, samba sene, Senegal, thomas rome, WOMEX, yoro ndiaye