Singing On Cheikh Ndoye's Debut CD
Just returned from a wonderful weekend in Washington D.C., where I sang on three tracks for Senegalese jazz bassist Cheikh Ndoye's debut CD. Cheikh is super talented and a lovely person. He's confident and open minded, kind hearted and humble, full of ideas and enthusiasm for the future, with his musical roots firmly in Senegal. Yes! There are so many brilliant Senegalese musicians out there, it's wonderful to see a gifted young artist like Cheikh getting the support he needs to develop and grow.
Cheikh's producers Kevin Peter Jones and Romero Wyatt were equally charming and kind ... and the music is Niiiiiiice!! Debut records have a special energy because an artist has such an open canvas to try everything. Cheikh's bass lines are earthy and sinuous, rhythmically creative and yet spacious ... leaving lots of room for the heavy weight jazz musicians he's invited to fly above. Russell Ferrante and Karen Briggs both sound awesome on the record.
I arrived with my parts worked out in advance via from bouncing files back and forth between LA and Washington. (Thank God for Garageband!) Being behind a microphone in the studio or onstage always makes me soooo happy. My session was pretty quick on Sunday morning. Before I knew it, I was back on the plane home, with happy memories of excellent food, good conversation, wonderful people, ... and the thrill I felt at the Mall in Washington D.C. envisioning Barack and Michelle Obama living in the White House down at the end. GO OBAMA!!! GO CHEIKH!!!
Cheikh Ndoye, Yours Truly, and Zen Drum World Rhythm Master - Romero Wyatt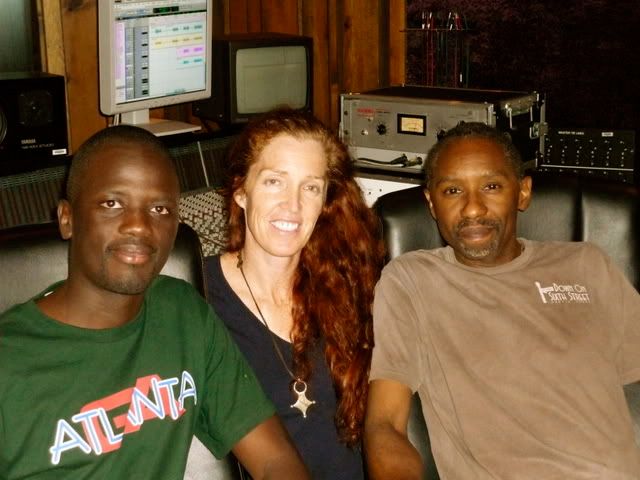 Labels: ashley maher cheikh ndoye romero wyatt senegal bass jazz music kevin peter jones karen briggs russell ferrante