Recording With Les Super Etoiles in Dakar, Senegal!
Just returned from Dakar, Senegal, where I spent three amazing weeks recording key members of
Youssou Ndour's band, Les Super Etoiles
, for my 5th CD!!
Arriving at Dakar airport at 5am,
Jimi Mbaye
(Youssou's guitarist) came striding in to pick me up, greeting everyone as he came. He is such a star over there … people on the street flag down his car just to tell him how much they love him. Jimi's house was my base for the next three weeks. Since everyone was fasting during the day for Ramadan, we worked mainly at night … from 11pm until morning. Jimi is a whiz in the studio, a magnet for musicians dropping in and, of course, an insanely wonderful guitarist! I loved how he would sit in the baking midnight heat, guitar in his lap, sipping caffeine-and-sugar-packed ataya tea, smoking, and listening to the material. He'd say, "I hate you … I love this song too much!" and then launch into yet another brilliant tracks' worth of Only-Jimi-Mbaye-Could-Play-That! guitar.
One night of guitar from midnight till dawn, I was so tired, I was practically asleep on the studio's slender couch. However, I wouldn't go to bed … this was history in the making! So I just lay there, shouting out, "Oh my God, that is SO BEAUTIFUL!" or "Awesome!" or "Oh, I LOVE that!" as my eyes struggled to stay open. Jimi really gave His Best to the music, which meant so much to me…
With Sabar Legend, Thio Mbaye, and Guitar God, Jimi Mbaye!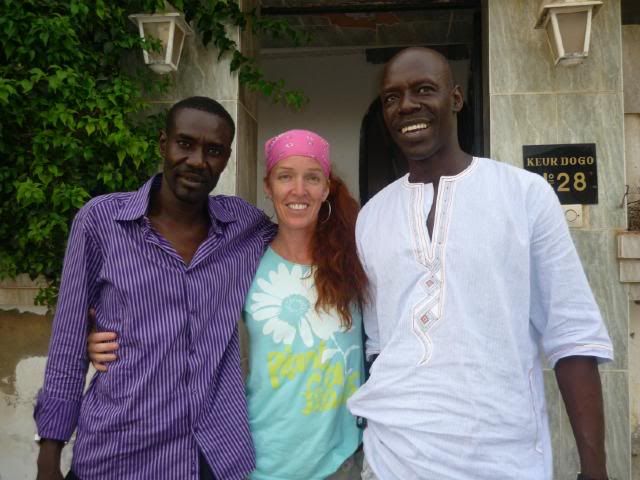 In fact, every musician blew my mind. Many consider
Thio Mbaye
(sabar drums) to be Senegal's best sabar drummer and he was pure fire, creativity, humor, and enthusiasm in the studio. Thio promised to throw a gigantic sabar for me when I return in November (there was no dancing, drumming, concerts, music, soirees, parties in Dakar during Ramadan, which was soooo hard!). Can't wait! He's incredible!
Thio Mbaye on fire in Studio Dogo
The night
Assan Thiam
played tama (talking drum), my eyes kept welling up with tears. Twenty years ago, I met Youssou and Les Super Etoiles for the first time in Paris, when they recorded
The Lion
. I remember finding Assan alone in the studio parking lot, listening to a song on headphones, in a trance, looking up at the stars, and practicing what he'd play on tama. Since then, I have seen him enter that ecstatic musical state onstage countless times … and now here he was with that familiar joyful look on his face, playing tama …
for my very own CD!
Waaw waaw!!!! A very warm, funny, radiant soul.
with Tama King Assan Thiam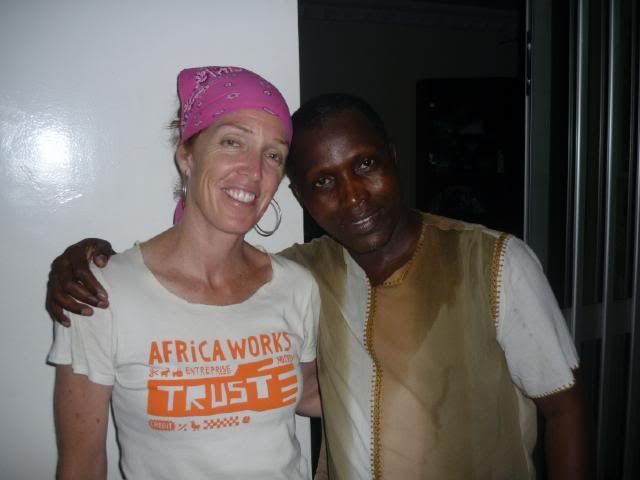 Abdoulaye Lo
(or Laye Lo) played drums for the more mbalax-y tunes and, like the others, nailed everything in one or two takes. Their facility to find that golden musical seam that weaves so perfectly into everyone else's parts is thrilling to witness. Another very friendly and warm person.
with Youssou Ndour's wonderful drummer, Abdoulaye Lo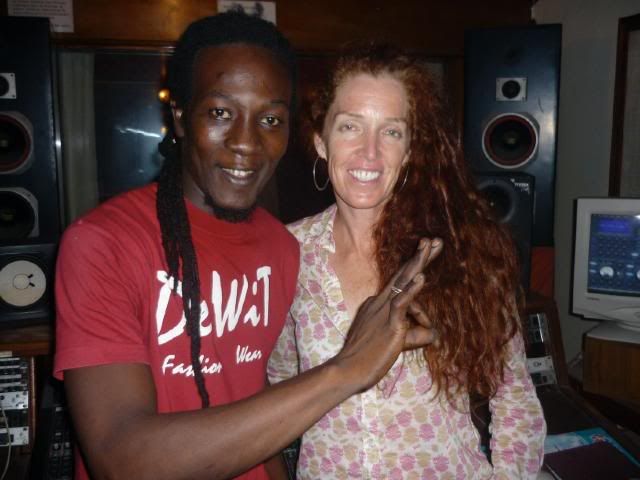 Lastly, Youssou's backing vocalist,
Birame Dieng
, came in the same night as Thio Mbaye's second session and waited a loooong time to sing. I had invited him to guest on a song called "OK" which talks about a farmer who has malaria. As the sick farmer watches TV, he realizes that he doesn't need America's big cars, diamond rings, or movie stars. He just needs medicine. At 3am, Birame finally took the mic and sang both an opening vocal line and a free form vocal over the ending refrain. Making it up on the spot, it was perfect the first time!!! Everyone was thrilled. He has the effortlessly beautiful voice imaginable!
with Birame "Golden Voice" Dieng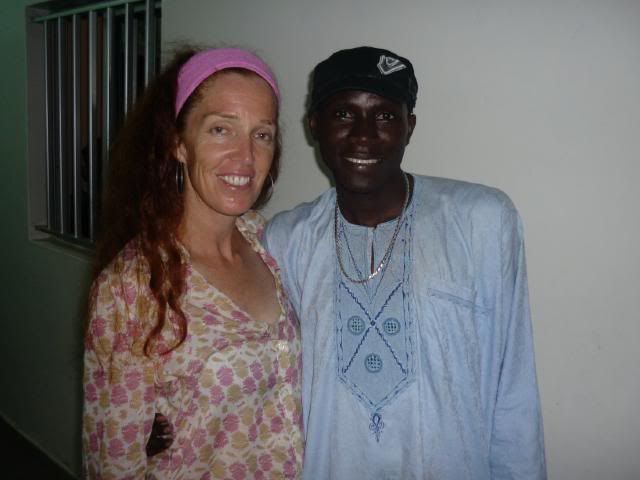 When I wasn't blissed-out beyond description in the studio, I hung out with Jimi's beautiful daughters, Maman and Ndeye Mbaye, plus the Goorgoorlu dancers who I'd rehearsed with last April for Bercy '08. Much of the day was spent napping, listening to music, and chatting lazily in The Heat.
I spent many sunsets on Bamba Gueye's rooftop with Baye Fall friends of Goorgoorlu, who would sing songs of every description (praise / sacred / funny / colloquial), accompanying themselves with percussion and bongos (not a drum … more of a calabash + thumb piano combo). I have always found sunset to be a magical time of day, and when the sun sank into the sea and the muezzins passionately sang "Allaaaaah Akbar!" from their minarets, particularly with everyone fasting and praying for Ramadan, it was sooo spiritual and beautiful.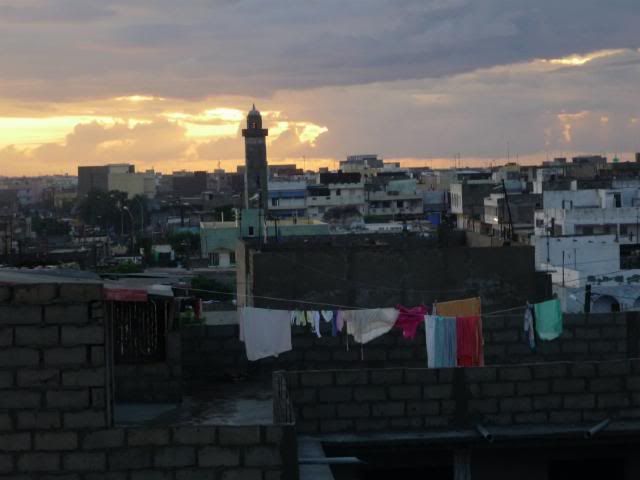 Fallou Ndiaye and Douda singing and playing bongos. Fallou is an incredible dancer!
Djily Mbaye and his bongo…. Djily is another amazing dancer!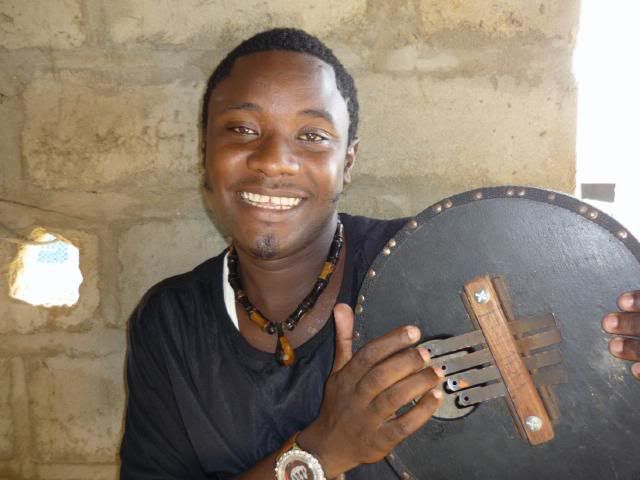 With Fallou Ndiaye and Djily Mbaye of the dance group: Goorgoorlu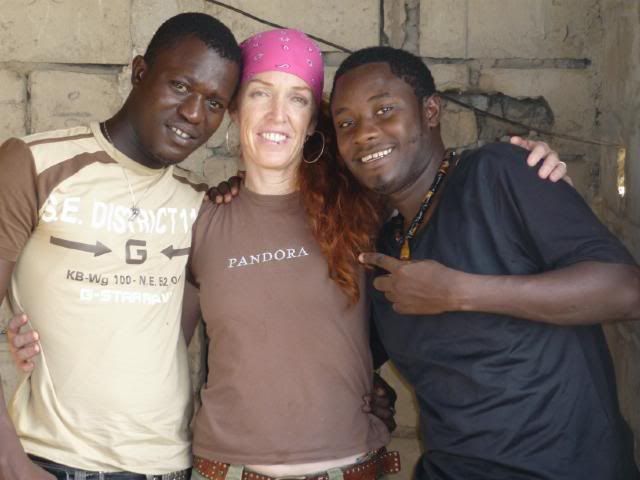 With Fallou Ndiaye and Bamba Gueye of Goorgoorlu. Bamba is one of the kindest, sweetest, funniest people I know. And another ridiculously great dancer!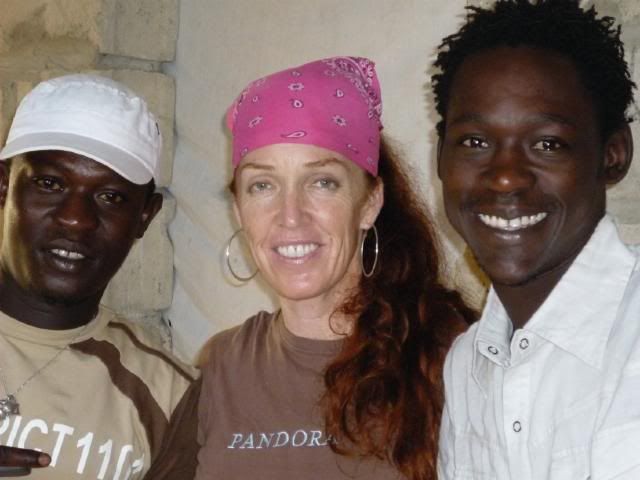 While in Dakar, I also saw many friends…
Senegal's radiant dance star, Ndeye Gueye. We danced together at Bercy '08.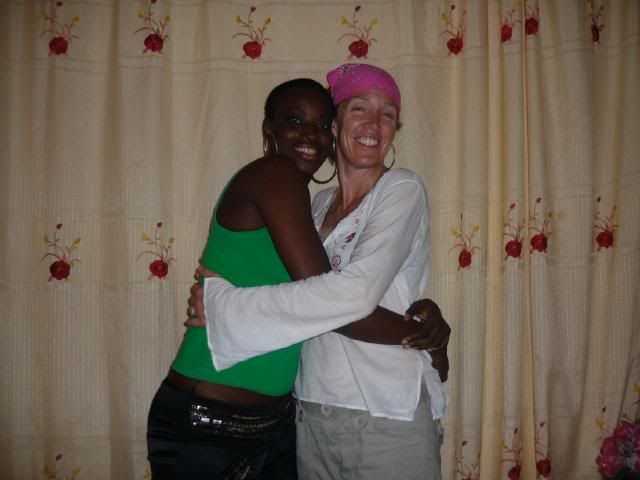 With another Sabar Drum Master, Djibril Ndiaye Rose, and his lovely wife, Fily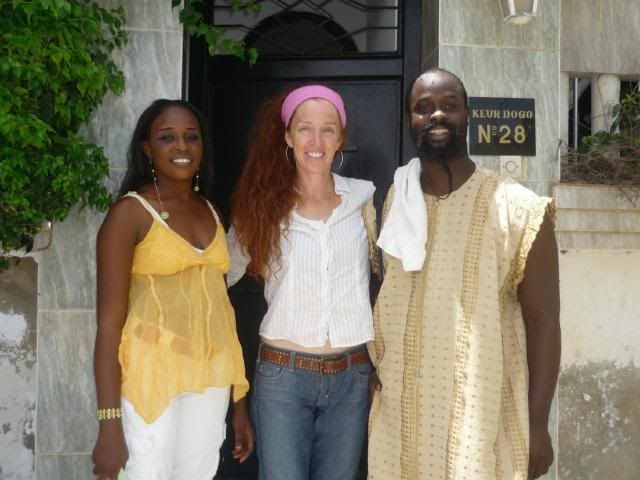 Despite the heat and Ramadan, I also danced at home with Maman and Ndeye Mbaye, plus their 6-year-old niece, Ami Colle Seck, who was a blazingly talented young dancer. I called her "My Dance Professor!" Maman caught us dancing in a corridor one night:
Dancing with 7-year-old Fierce Sabar Mini Queen, Ami Colle Seck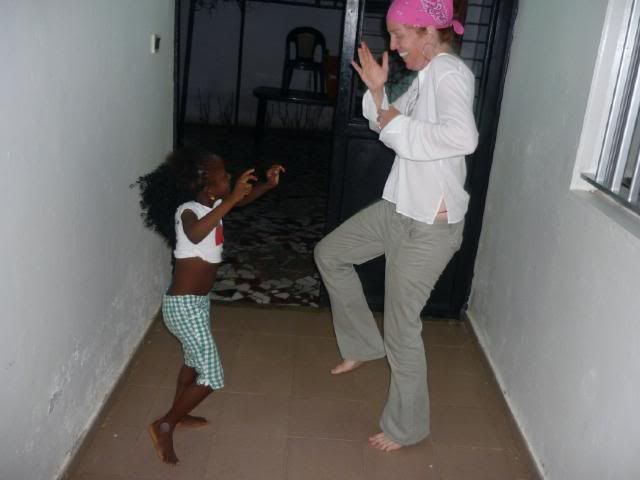 Ran Taik! Ran Taik! Ran Taik! (a popular dance step)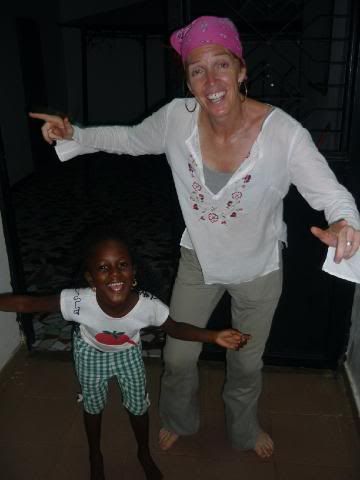 For any of you who have not been to Africa,
GO!!!!
It is such a wonderful magical rich deep amazing place. Yes, Africa has her troubles, but there is definitely Something there that needs to be experienced directly … something of The Spirit, of Life, and Joy that we in the West hunger for.
When I disembarked from the plane in Washington, Dulles, on the way home to L.A., that's exactly how it felt … Dull. Clean? yes. Organized? yes. On time and efficient and modern and sleek and convenient? yes! But gone was that Vibe, and Energy that I love so much in Senegal. I am very very very very lucky and blessed and grateful to have been able to work there with my musical heroes. It is the beginning of a whole new wonderful chapter and I Give Thanks and Praise! Love and blessings to all, Ashley